Klinika Zir, Zhytomyr Ophthalmologic Clinic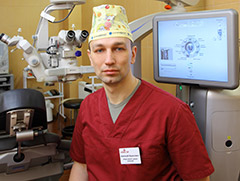 Klinika Zir is a modern medical institution of the region, which is authorized to perform implantation of premium intraocular artificial lenses with cataract and refraction defects (astigmatism, near-sightedness).
Klinika Zir is the ophthalmologic center, providing a wide spectrum of quality and modern ophthalmologic treatment.
Klinika Zir is a specialized institution. We deal only with problems of vision. Our aim is to examine and treat eyes at the modern level using the entire current spectrum of diagnostic, therapeutic and surgical means. The clinic has created comfortable conditions for its patients and acquired modern equipment; consultative services and surgical treatment are provided by experienced specialists, well-known both in our region and in other regions.
We strive to find more time for each patient than a standard examination in the polyclinic does. Our task is thorough diagnostics which allows avoiding slightest doubts regarding the diagnosis and further treatment. We have individual approach to each patient.
Modern standards of providing ophthalmologic help do not require in-patient hospital admission for patients with such diagnoses as cataract, glaucoma, retinal detachment, etc. According to the protocols of the Ministry of Health of Ukraine on providing medical help to the population, these surgeries are out-patient procedures. We keep pace with modern ophthalmology and suggest so called "fast" surgery to our patients.
It means that when a patient comes to us, we select the most convenient day for him to come and spend just a few hours with us; during these hours we actually perform the surgery and post-surgical treatment, following which the patient can go home, back to his lifestyle.
A number of novel microsurgeries on the organ of vision are performed in the Klinika Zir. Until recently a great number of patients with some pathological conditions of eyes could receive quality medical aid only in ophthalmologic centers of Kyiv and Odesa. Now we have a possibility to help these patients, not leaving the region, which allows them to save money as well their time and efforts.
We have many years of experience in performing laser treatment of retina (nervous tunic of the eye) and vitreoretinal surgery.
The cataract removal via the worldwide standard of using phacoemulsification cataract surgery, a novel ultrasound method of implanting a flexible intraocular artificial lens, has become a usual and "routine" procedure.
Our specialists are full members of Ukrainian, European and American Societies of Cataract and Refractive Surgery.
High professionalism and many years of work experience of our doctors allows us to find optimal solutions even to very complicated cases of the patients, who were refused help in many medical institutions, and to provide quality aid to everyone.
The motto of the Klinika Zir specialists is humanism, professionalism and constant self-perfection!